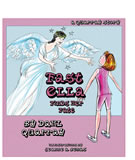 This Quarray Story, told in rhyme, explores the magic of teleportation, that is, going from here to there in an instant. Ella learns the skill, because of her passions for running, geometry, physics and meditation. "Ella hardly ever walked, she'd run from here to there. She loved to feel the wind breeze through her long, brown strands of hair."
In high school, Ella became the fastest, smartest girl, but there was another chapter to be written in her magical journey: "The miracle was witnessed at All- State Runners' Meet. Ella's brain began to chant, 'I'm faster than your feet.'" A nanosecond after the starter's gun sounded, Ella appeared at the finish line before the other runners had taken their first step!
Her new power challenges Ella and she becomes arrogant. Before she can live a good life, she must learn something more and it is taught to her by Nike, the Greek goddess of speed and victory.